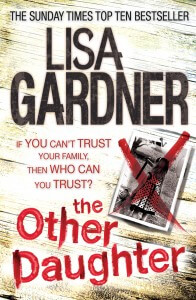 The Other Daughter
Finalist for WHSmith's "A Thumping Good Read."
IF YOU CAN'T TRUST YOUR FAMILY. . .
When Melanie wakes up in hospital all she knows is that she can't remember any of the first nine years of her life and no-one is there waiting for her.
For Dr Stokes – who treated Melanie that night – and his wife, their decision to adopt the abandoned child comes as a blessing following their desperate struggle to deal with the brutal murder of their four-year-old daughter, Meagan.
But when, after twenty years of happy family life, Melanie suddenly finds her past under investigation by a reporter and an FBI agent, everything she thought she knew about her new life is questioned. And when horrific messages and gifts start arriving, Melanie is forced to face the terrifying reality that her family may be the last people she should trust. . .
THEN WHO CAN YOU TRUST?